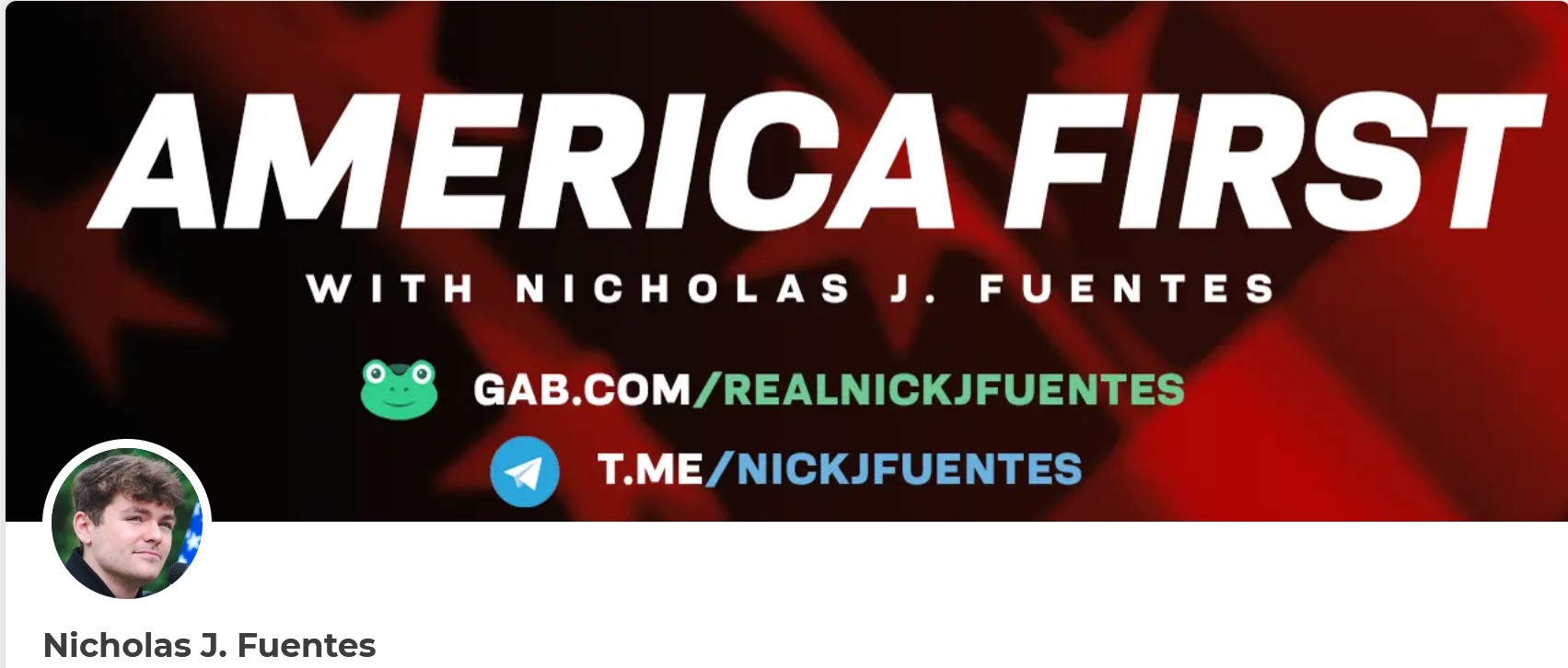 Description
Watch America First with Nicholas J. Fuentes live Mon - Fri @9pm EST only on americafirst.live
Follow us on Gab: Gab.com/OfficialAmericaFirs
AF-Clipper Three Spoons Media | For Updates and Uploads: -Telegram:...
Description
More AF-clips @ https://gab.com/Three_Spoons
Clip from cozy.tv/nick , which aired the 26th of October 2022 on Cozy.tv
Nick Fuentes:
✔️Livestreams: Cozy.tv/Nick - 8P.M CST, Mon-Fri.
✔️ Telegram: https://t.me/nickjfuentes
✔️ Gab: https://gab.com/realnickjfuentes
✔️Website: Nicholasjfuentes.com ($10/month to access the 900+ videos archive)
#Malkin #Legacy #Tribute #AmericaFirst #clips
Tags: Malkin, Legacy, Tribute, America First, clips
johnnycellphone
@johnnycellphone
·
Watching wignats attack
@realnickjfuentes
, it's clear many of them are Jews posing as wignats. But others are simply wignats, unaware of how destructive they are for the white race. They promote impossible, leaderless agendas or organizations with provably ineffective leaders who'll never accomplish anything except neutralize our resistance to Jewish hegemony.
Wignats spead their influence online without gaining political traction. They get inside right wing spaces and do the Jews' work for them. Sure, sometimes they're funny, but they deeply harm us.
And neo-nazis with autism have an unbearable writing style, faux-educated sounding and oblique, eluding to philosophers they've never actually read. Fuck wignats, their shitty writing, and their undigested ideas. Buncha gay retards
White Gentile Organizations & Jewish Community Based Organizations
We have written before about the success of the Jews due to their community-based organizations; They are a nation within a nation with many whose loyalty lies first and foremost with Israel and the Jewish community. The Jews' community organizations generally have little or no loyalty to their host country and as we showed in our previous article. Each of these community groups is linked to hundreds of other umbrella groups around the world. Many Jews are nationalist and Internationals nationalist, working united with most Jewish organizations all over the world as nationalist and one nation. They have World and regional Congresses to keep them united.

The core Jewish population from 2014 was estimated to be 14.2 million and is roughly 0.2% of the world's population. It is astounding how many societies, groups, organizations, committees and associations they have actively run across the globe. Even with all these successful, established groups, the Jewish community is still crying poor about their Jewish identity being in turmoil and they are throwing, even more, money into establishing a sense of Jewish pride and ancestry in the younger generations.
| | | |
| --- | --- | --- |
| Country | Total Population | Jewish Population |
| United States | 318.9 million (2014) | Between 5.7 and 6.8 million |
| Russia | 143.5 million (2013) | 186,000 |
| France | 66.03 million | 475,000 |
| Britain | 64.1 million (2013) | 300,000 |
| Germany | 80 million | 118,000 |
| Canada | 35.16 million | 385,300 |
| Australia | 24 million | 90,000 |
Many argue that there are plenty of organizations in the countries listed in the table above who are representing gentile Europeans such as RSL, Rotary, Scouts etc, but it is important to realize that these organizations are not fully representative of gentile Europeans and simply cover interests within specific fields. People need to get active from within these organizations and start to enact change. At the same time, we need a solid international organization to represent the European people.
Europeans are afraid of their cultural identity, for fear of being labeled 'racist.' We discussed the idea of European white guilt and this shame and political correctness have ensured that Europeans (whites and true Jews) are unable to establish the organizations we need to build strong communities and fight for our people. We suggest that you read these articles and the information on the Jewish organizations linked below, and start to build your own organization with a similar structure which is connected to all other relevant groups.
Cultural and Racial Organizations in Britain
Many cultural groups are proud of their organizations; however, people of European heritage are now labeled as 'racist' if they display similar pride. Below is a list of organizations in Britain that represent different colored races, but do not represent British native Europeans. When Europeans have created organizations to represent them, the Equality and Human Rights Commission in Britain has claimed it is practicing discrimination according to race and skin color. For some reason, however, the organizations in Britain listed below are given a free pass as being perfectly acceptable!
The Black Police Association

Black and Asian Therapists Online

BBC Asian Network

Asian Radio

Federation of Black Housing Organizations

Asian Modelling Service

Asianfaces.co. UK

Society of Black and Asian Lawyers

Black Lawyers Directory.com

Asian job site.co. UK

Barnardos Chinese Lay Health Project

Black Britain.co. UK

Sussex Black Police Association

Black Students Association

UK Black Teachers Association

Operations Black Vote

UK Asian Business Directory

Asian People Disability Alliance

Asian Arts Agency

Black Enterprise Awards

Black Engineer

AIM Magazine

Natwest Bank (AsianEntrepreneurs Unit)

Asian Voice

Africa Asian Arts Venue

Black Training Enterprise Group

UK Black Pride

Ethnic Minority Foundation

Black And Minority Ethnic Elders
Europeans need to build National & International Community Based Organizations & copy the Jewish B'nai B'rith & Anti-Defamation League Organization Structure
Jewish Community Based Organization, B'nai B'rith International and its Jewish Anti-Defamation League

B'nai B'rith in Hebrew means the = Sons of the covenant
B'nai B'rith Moto = Benevolence, sisterly & brotherly love and harmony.
The Menorah or candlestick has seven branches which stand for Light, Justice, Peace, Truth, Benevolence, Brotherly Love and Harmony.
The Menorah is the symbol of the B'nai B'rith. The Menorah which is the ancient universal Jewish symbol of Judaism.
B'nai B'rith is rightwing Jewish Nationalist first and using leftwing socialism ( no free speech) to control its members, and is a left-wing advocacy group.
The B'nai B'rith is one of the largest and the oldest Jewish service organization in the world. Founded by Henry Jones and 11 others on 13 October 1843 in New York City, United States. Jews founded this organization to provide service to their people and it now has men's lodges, women's chapters and youth organizations all over the world. Its aims are aiding Jewish college students mainly through the Hillel foundation, sponsoring education programs for the youth and adults and promoting welfare in Israel. It has training programs for adults and youth groups who help people during national disasters and gives support to hospitals. In the United States, the Jewish Anti-Defamation League (ADL) has 28 office domestically as well as offices abroad.
Only Jews are allowed to join the B'nai B'rith. They are committed to helping Jews and the State of Israel and promotes the idea it is fighting so-called anti-Semitism and bigotry, when in fact, it has been accused by Jews and others as anti-Semitic towards Europeans (whites and Jews) and blacks, in that it promotes anti-Semitism and bigotry by promoting open borders and allowing millions of non-Europeans into America and other European countries except Israel .
Education and Publications: Since 1886 the organization has published the oldest Jewish periodical B'nai B'rith magazine in the United States. B'nai B'rith have activities and programs, adult education, career guidance and vocational counselling, youth activities, group relationships, and philosophy.
B'nai B'rith and the Jewish Anti-Defamation League
In 1913 the B'nai B'rith established the Jewish Anti-Defamation League (ADL) to combat so-called anti-Semitism and racism and to fight for Israel.
The opposition has a different opinion on what this organization stands for. For example, they say this organization is the longest running most powerful racist hate group against Europeans (whites & Jews), Africans and Arabs in the world. The ADL have nearly 60 million dollars a year to combat free speech, fight to control race minorities and to help refugees and foreigners come into the United States and other countries.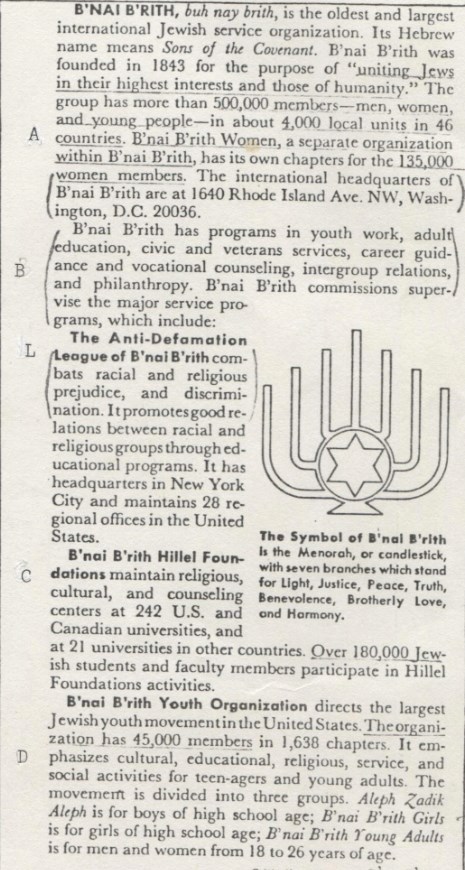 Europeans who want to teach Europeans their culture need to build a Community Based Organization
Community Organization and Building - 3-30-16 Lecture
The article on right. The B'nai B'rith Jewish Community Based service organization operates nationally and internationally and represents Jews only. Many Jews are nationalist behind the scenes; and in public they promote conservative, liberal, socialist, communist ideas.
Jewish organizations are collective community based organizations, bringing together many groups under national and international congresses all over the world.
Jews are united nationally, internationally and are a nation within a nation with their own government.
White gentile organizations in the United States, Australia, Britain, and Europe are not community based organizations, they are conservative structured. Conservative organizations are not collectives and do not build Anti-Defamation organizations to fight for people rights and do not promote community services to their people. They do not have national or international congresses to unite them.
Alex Jones (Infowars) said conservative will not defeat the globalist only nationalist will do that. Alex was talking about national ideas and organizations.
20-12-2018
As well as presiding as President of the World Jewish Congress, Lauder is also President of the Jewish National Fund, which openly promotes Israeli occupation on Palestinian land. This is currently illegal under international law.
Below is a map of all the different affiliates and branches that the World Jewish Congress have established back in 1953 before there were internet and ease of global communication. They built an international community organizations to promote and ensure the Jewish Diaspora were catered for around the globe.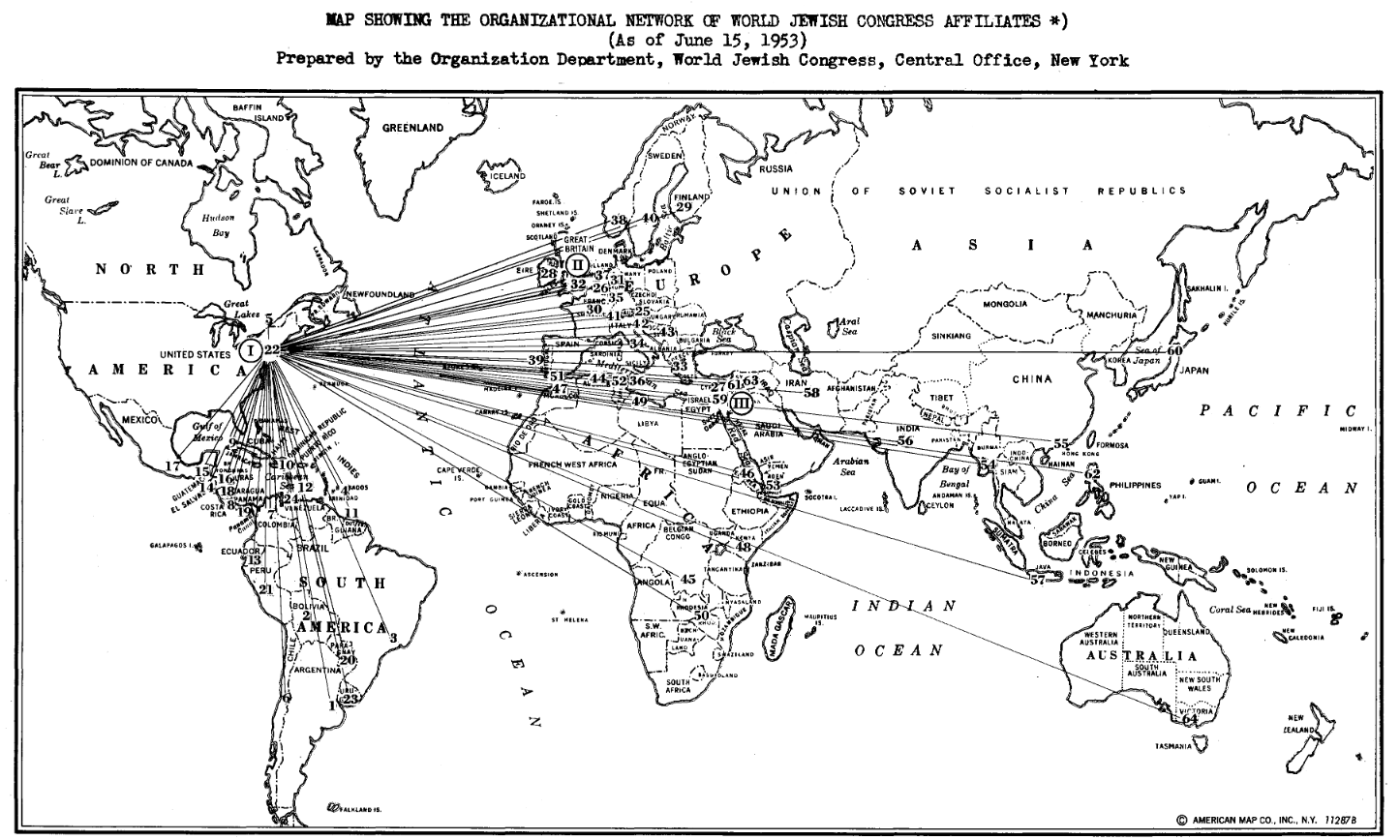 The Jewish community have built powerful organizations from literally nothing, which operates as independent nations within all host countries. Many Jews promote patriotism, loyalty to the Jewish community, Israel first and foremost. There are Jews of course, who are very loyal to western countries and some work with the Jewish community even though they have a great love for America, Australia, and Europe.
We have outlined a few of the biggest Jewish organizations to give you an idea of how good community groups breed success .

World Jewish Congress
The World Jewish Congress (WJC) was founded in Geneva, Switzerland of August 1936, and promotes the idea that it represents the international federation of Jewish organizations and communities. Membership is open to Jews only, irrespective of the social, political or economic ideology of the community's host country.
A growing number of people argue that this organization has too much power over western countries, especially considering the small percentage of Jews world population. Jews actually represent. In the United Nations Economic and Social Council it has special consultative status and they also have a Research Institute based in Jerusalem, Israel, which does research on a variety of issues concerning Jews.
Jews World Regional Congresses
WJC presents five regional congresses and are also in charge of the Israel Council of Foreign Relations and the European Jewish Parliament. From May 2013, French Banker Baron David Rene de Rothschild was elected as chairman of the WJC Governing Board.
European Jewish Congress
Euro-Asian Jewish Congress
Latin American Jewish Congress
American Jewish Congress
Israeli Jewish Branch
During the 1960s the World Jewish Congress was involved in the United States civil rights movement and were behind opening American borders to non-European immigration. In more recent times they have been pushing the flood of immigrants into Europe which led to the 2015 Immigration Crisis. These immigrants are attacking the Jewish community and forcing Jews out of many European countries. When the European indigenous population campaigned against this invasion, they were publicly labeled by Jewish organizations as "racist, bigots, extremists, anti-Semitic and islamophobic", just for trying to defend their lands and culture. Jewish organizations ensures that Israel has closed borders to third world immigration and carry out everything in their power to keep Israel pure for Jews while ensuring the media gives it very little attention in order to keep most of the world in the dark about their hypocritical policies.
European Jewish Congress Zionist Globalist Run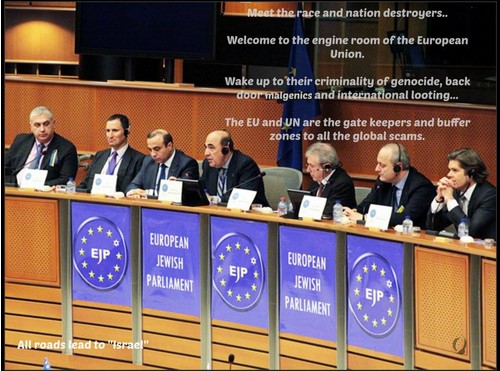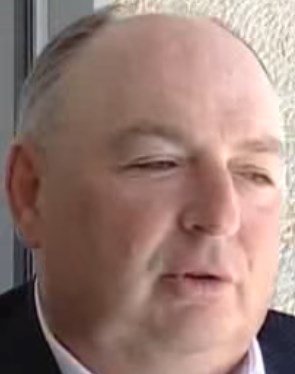 Dr. MOSHE KANTOR Pres. European Jewish Congress
European Jewish Congress
The European Jewish Congress or EJC (formerly known as European Jewish Union or EJU) is a non-govenrment organization based in Brussels, Belgium, Europe. The aim of the EJC is a unit structure for all Jewish communities and organizations throughout Western, Eastern and Central Europe. The European Jewish Congress was the brainchild of Ukrainian billionaire Vadim Rabinovich and officially established in 1986. The European Jewish Congress is the most influential European organization in Europe, representing around 42 national Jewish communities comprising more than 2.5 million Jews in Europe. Jewish community base organizations are so well developed that 2.5 million Jews have more power then the total European population of about 743.1 million (2015) people living in Europe and have more power then all the European Governments in Europe.
World Jewish Congress
The European Jewish Congress is affiliated with the World Jewish Congress, and their headquaters are in New York City, United States and the organization maintains office in Paris, France. Before the establishment of EJC, European Jewish issues were dealt with by the European branch of the World Jewish Congress (WJC). Today the EJC is the regional affiliate of the WJC as the sole political organizational representative of European Jewry in Europe.
The Former European Jewish Union
The European Jewish Congress formally known as the European Jewish Union is a non-Government organization based in Brussels, Belgium, Europe and was founded in the spring of 2011. Its stated aim is to be a uniting structure for all Jewish communities and organizations throughout Western, Eastern and Central Europe. The European Jewish Union established a European Jewish Parliament comprising of 120 members from 50 countries and is modelled on the Israeli parliament called Knesset. This parliament says that its aim is to represent the concerns of the Jewish Diaspora in the European Union and other European Countries.
The EJC protects the interests of its affiliated communities, working daily with European Union institutions and officials, the Council of Europe (where the EJC has participatory status) and national governments and parliaments. According to Wikipedia: "The EJC intends to protect human rights, fight xenophobia and anti-Semitism, promote interfaith dialogue, implement cultural and educational programmes, and remember the Holocaust and other events that killed millions of people. To meet these goals, the EJC has initiated and organized several large international projects, in particular the Let My People Live! international forums.....Another important issue on the EJC's agenda is preventing nuclear terrorism."
International Council of Jewish Parliamentarians
The International Council of Jewish Parliamentarians (ICJP) is a project supported by the Knesset, the World Jewish Congress, the Israeli Ministry of Foreign Affairs and the Israel Forum. Its goal is to bring together Jewish legislators and parliamentarians from around the world to engage in a dialogue of cooperation to achieve the goals of the ICJP's Mission.
International Council of Jewish Parliamentarians
The International Council of Jewish Parliamentarians (ICJP) was founded in 2002 to involve Jewish parliamentarians and lawmakers from all over the world to representing the Jewish voice. Their members come from all over the globe including the United States, Britain, France, Germany, Ukraine, Russia, Tunisia and Canada though many Jews say it is not representative of their needs.

The Parliamentarians are sponsored by the World Jewish Congress. A newly elected Steering committee representing Jewish lawmakers from all the worlds' continents. At a meeting in the City of Jerusalem, Israel unanimously elected Fiamma Nirenstein, 65years, a member of the Italian Chambers of Deputies, as its head.
Nirenstein to Head Int'l Council of Jewish Parliamentarians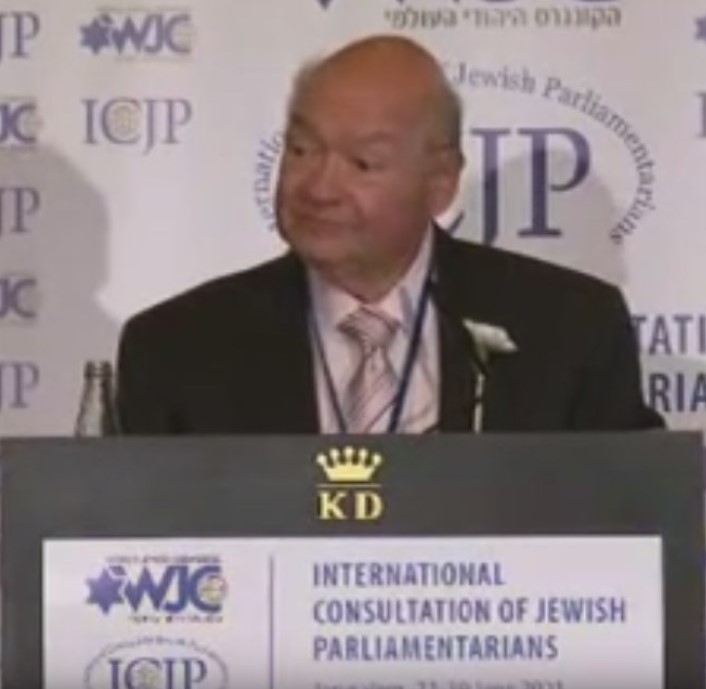 International Council of Jewish Parliamentarians/World Jewish Congress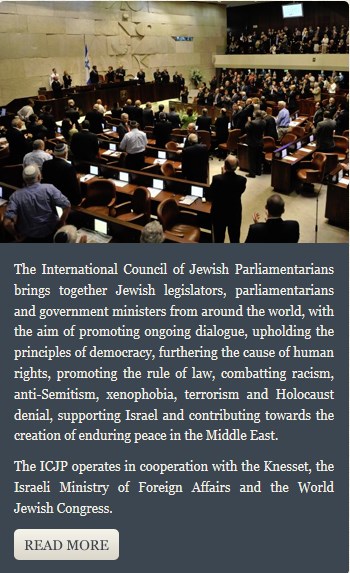 ICJP MISSION AND STRUCTURE Members of the Steering Committee
Rep. Eliot Engel (U.S.A., Chairman)

Rep. Gary L. Ackerman (U.S.A., Chairman Emeritus)

Mr. Mark Adler, MP (Canada)

Ms. Luciana Berger, MP (UK)

Prof. Irwin Cotler, MP (Canada)

Mr. Michael Danby, MP (Australia)

M.K. Yuli-Yoel Edelstein (Israel)

Mr. Luis Fishman, MP (Costa Rica)

Dr. János Fánagy, MP, Secretary of State, (Hungary)

M.K. Shai Hermesh (Israel)

Lord Janner of Braunstone, QC (UK, Founding Chairman)

Rep. Nita Lowey (U.S.A.)

Councilman Floriano Pesaro (Brazil)

Mrs. Viviane Teitelbaum, MP (Belgium)
Zionism takes power in Europe. Ukrainian money backing a Jewish Parliament that will ensure Israeli policies are expanded into Europe.
"On Thursday 16th February, in the European Parliament, Brussels, 120 members of the elected Jewish European Parliament held their inaugural session to discuss the fears of European jews.
Why is a jewish European parliament a good idea?