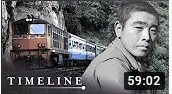 The Death Railway That Killed 100,000 | Moving Half The Mountain | Timeline
Moving Half The Mountain documents the true stories of the survivors from one of the worst atrocities of the Second World War the brutal use of prisoners (POWs) and forced local labour by the Japanese to build a railway linking Thailand to Burma. These men are now in their twilight years but their memories are as clear as though it were yesterday.
Every soldier in this film blamed others and denied torturing. They try to minimize the atrocities they were part of. The stain will last as long as history.
Railway was completed in 1-1/2 years, at cost of 120,000 lives, 220 people had to die EVERY DAY
It's so revealing how the Japanese in this film have such a light-hearted view of what they did and tend to blame the prisoners for dying because the didn't 'behave' well! Even after so many years, they have no remorse or sympathy for their victims or crimes.
I had hoped the men and relatives who Suffered and Died because of this 'Holocaust' would recieve much better 'Reparations' like other survivors of WW2 Atrocities.
This is an Appalling piece of History.
Thank you for making this Documentary.
Those Korean soldiers (unwillingly forced to be Japanese at that time) were forced to beat the POWs,...Korea had been occupied by Japan for 35 yrs( from 1910 till 1945 ), in which time Japanese tried to eradicate their culture!! No wonder the overwhelming number of Koreans, Chinese & other Asians abhor the Japanese even now ( 28 Jun 2020 ),
People forget that Japan invaded Manchuria in 1937... they started their atrocities years before ww2...
Funny how the Japanese soldiers don't remember torture but everybody else does that were their POWs. An entire nation with selective memory
I had long understood that "at least" 100,000 allied prisoners were murdered - approximately one for every rail tie / sleeper laid) - and that a conservatively estimated 250,000 of the local population were also murdered during the construction of the Burma Railway. I knew one survivor (John Grant) who weighed just 84lbs on release. His normal weight was 175lbs. He had been methodically tortured and starved as were all prisoners. Consequently I viewed the recent Japanese t'su nami of 2011 with a no sense of sympathy whatsoever.
The denials of the Japanese ex soldiers is disgusting. No torture, no starvation, no mistreatment and no comfort women.
THE JAPANESE OWE THE UNITED STATES AND ALL ASIAN NATIONS THAT THEY BRUTALIZED AN APOLOGY. AT LEAST THE GERMANS APOLOGIZED FOR WW II. SOME JAPANESE OFFICIALS DENIED THAT THEY RAPED AND BRUTALIZED WOMEN FROM CHINA, THE PHILIPPINES, AND KOREA. THE YOUNG GENERATION ARE NOT TAUGHT WHAT THE JAPANESE DID DURING WW II IN SCHOOLS. HOW SAD.