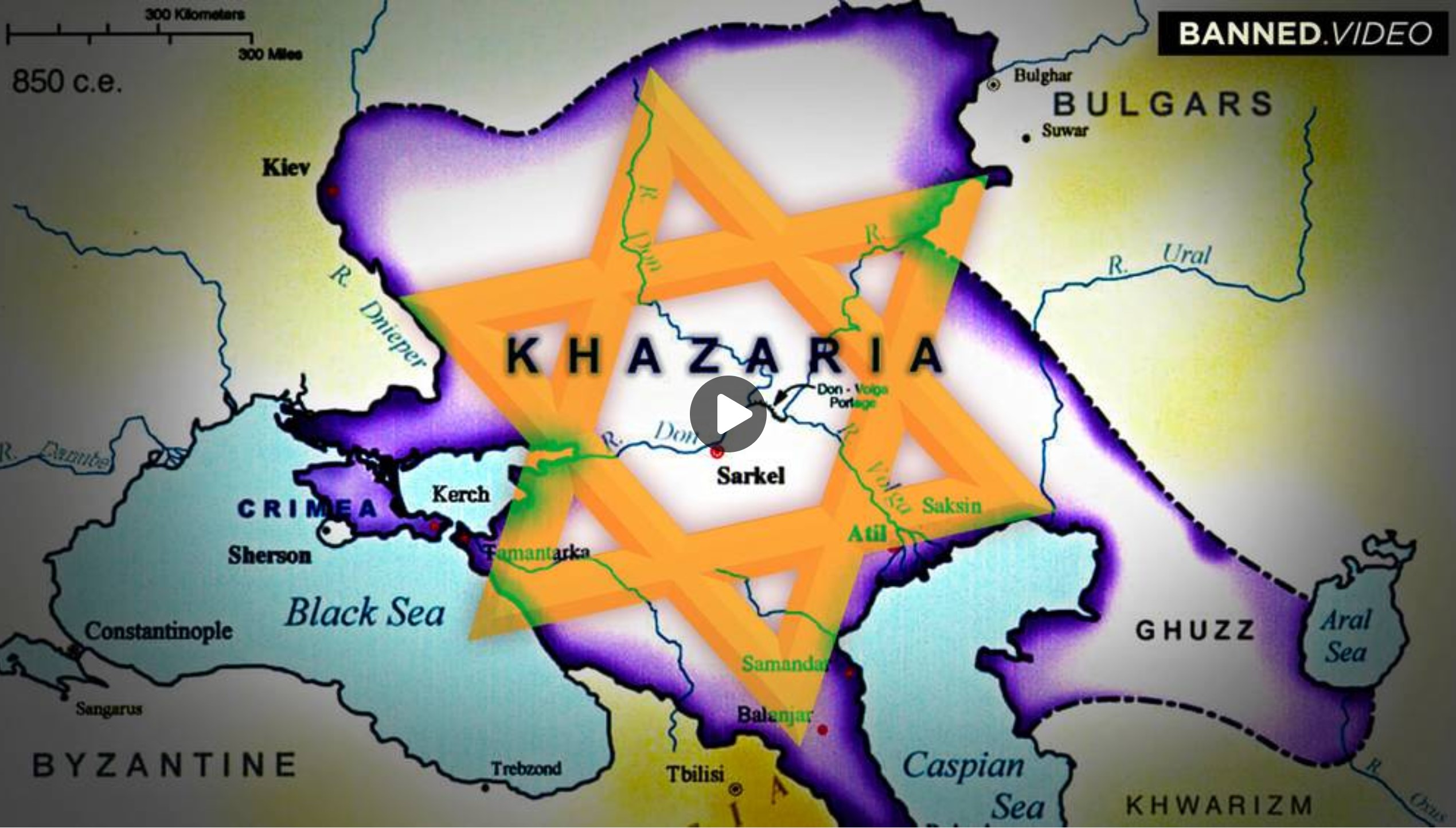 REVEALED: Hidden History Of The Khazar Kingdom
Brian Wilson breaks down the history of Khazaria and the controversial hypothesis that explains the origin of Jewish people in central and eastern Europe.

Many Jews are actually Germans, who are descendants from German tribes in Europe.
Khazars: History of the Jewish Turkic Nomads
If the Ashkenazi Jews had descended from Khazars they would have been speaking a Turkic language but their language Yiddish is based on the southern German dialects.
Most Jews today are not descendants from Israel or from the Khazars tribes that were then located in ancient times between the Caspian and Black Sea. If you look at Jews, you will see there are many variations in the population, which proves many of them are gentiles who converted to the Jewish faith. Jews do not speak the Turkish language; they speak a Yiddish language, which is based on a southern German dialect.
Many Jews are actually Germans, who are descendants from German tribes in Europe. The Rothschild's banking family's original name was Bower, which is an old German name and Rothschild's new name of date, translated in German, Red Shield.
Wikipedia. Its origins date back to 1743 when a German goldsmith, Amshall Moses Bower, opened a counting house in Frankfurt. He placed a Roman eagle on a red shield over the door. Rothschild is German for "red shield", and Bower's son adopted the name. ... Rothschild manufactured gold bars for more than 100 years, until 1967.
15 apr. 2004
Rothschild - Wikipedia. "Rothschild (German pronunciation: [ˈʁoːt. ʃɪlt]) is a name derived from the German zum rothen Schild (with the old spelling "th"), meaning "with the red sign", in reference to the houses where these family members lived or had lived. ... The name Rothschild in Yiddish means "red coat" (coat as in heraldic coat of arms)."
The Jewish population has a high percentage of people with blue eyes; many have blonde hair and are tall in statue. Many of These people's ancestry comes from Germany and Scandinavian. Some Jews are short in frame, and some of their ancestry came from around Grease and Italy, because back during the Roman Empire, people were shorter and Germans taller.
Many Jews have long noses, and have the "long nose gene," which is very predominant between the Black Sea and the Caspian area. Over time these genes have been passed on to their children.
Some Jews came from the Middle East area, and their ancestry could come from local tribes or the North Sea people, which moved into Palestine from Italy, Grease, Turkey etc. This would also be true with many Palestinians; both these groups have indigenous rights to Israel or to others called the country Palestine.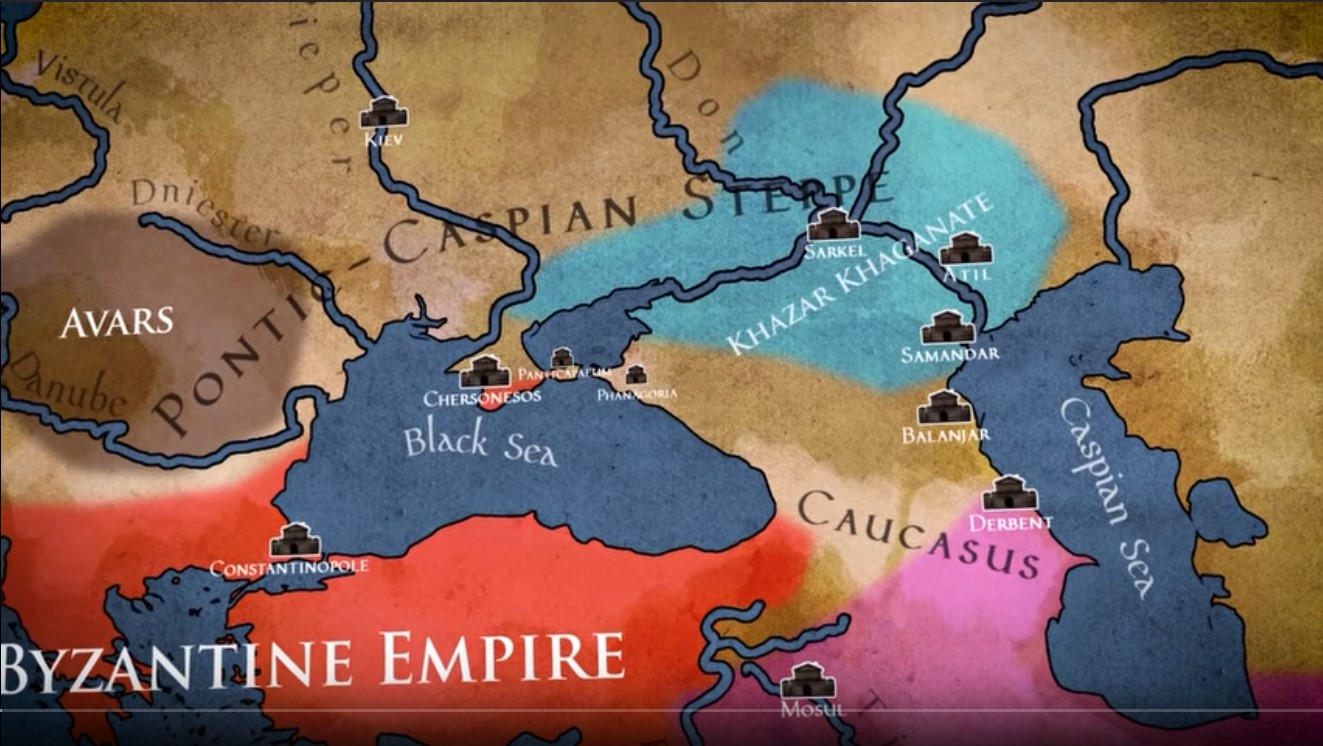 You know what, this makes me wonder, what if Judaism did establish itself more in this region. What would this effect if the majority of the populace converted to Judaism.
What would this result in?
In Azerbaijan, we call Caspian Sea "Khazar" sea
We still call Caspian Sea as Khazar Sea.
Dude awesome video.
As an Israeli one little note your texts in Hebrew are reversed, Hebrew is written from the right to the left unlike English which is left to right.
Plus you can add that, two of the Khazar's tribes have migrated with the Magyar Tribes to form Hungary and were possibly the forefathers of the Hungarian-Jewish community there although, there was a small Jewish community in Panonia Since about 75AD.
And again awesome video.
Best regards,
The Israeli Hungarian Jew.
Hi! Chuvash here(Chuvash is the closest living language to Khazar language) :) If you are wondering what Sarkel(or Sharkil) means, it consists of two words sār(shār)-white (shurā or shārā in Chuvash) and kel(kil)-tower (kil-house in Chuvash).Hope that was interesting.
When I lived in Paris, I lived in a Jewish concentrated area, and have seen many Jewish families. I was surprised that few of the Jews I met looks like more Central Asian than European. Also, I noticed that the furry hat (shtreimel) they wear is also Central Asian/Turkic style. Because a furry hat does not suit for the hot weather of Middle east, and surely it did not originate from there.
Interesting fact: Seljuk Turkmens claimed the David star or "Mühr-ü Süleyman" from Jewish Khazars, even before the islamic conquest the Seljuks owned Jewish names
Greetings to Ashkenazi Jews ????
Turkic peoples are really important to understand Eurasia
history.You
can see them in almost every religion and every various cultural type in different corners of Europe and Asia.
They are so unique.
They make up the fabric of the European Jews mainly in Russia, Poland and Germany. In Authur Kesthler's book he referred to them as the 13th Tribe meaning they do not belong to the 12 tribes of Israel they are converts to Judaism and no more.
For the people who deny ethnic roots of Khazars, here is a genetic study:
Over millennia, steppe nomadic tribes raided and sometimes overran settled Eurasian civilizations. Most polities formed by steppe nomads were ephemeral, making it difficult to ascertain their genetic roots or what present-day populations, if any, have descended from them. Exceptionally, the Khazar Khaganate controlled the trade artery between the Black and Caspian Seas in VIII-IX centuries, acting as one of the major conduits between East and West. However, the genetic identity of the ruling elite within the polyglot and polyethnic Khaganate has been a much-debated mystery; a controversial hypothesis posits that post-conversion to Judaism the Khazars gave rise to modern Ashkenazim. We analyzed whole-genome sequences of eight men and one woman buried within the distinctive kurgans of the Khazar upper (warrior) class. After comparing them with reference panels of present-day Eurasian and Iron Age populations, we found that the Khazar political organization relied on a polyethnic elite. It was predominantly descended from Central Asian tribes but incorporated genetic admixture from populations conquered by Khazars. Thus, the Khazar ruling class was likely relatively small and able to maintain a genetic identity distinct from their subjugated populations over the course of centuries. Yet, men of mixed ancestry could also rise into the warrior class, possibly providing troop numbers necessary to maintain control of their large territory. However, when the Khaganate collapsed it left few persistent genetic traces in Europe.
My father comes originally from the caucasus. They moved after wars zo Sivas in Turkey. We tested his DNA and he has 10% ashkenazi, I only 2.2%.
When I was in Georgia I went to the Svan region in The Caucasus Mountains. The Mediaeval defence towers can still be seen across the landscape, dating back to The 9th Century.
Funny thing, i was watching "Neglected history" yesterday "The Khazar Khanate" and today a video on that appears, wow, am i watched?
Note: Ashkenazi Jews appeared in Central Europe (Germany). Their spread to the Rus thus came from the west, and not from Khazar. Greek Jews, for instance, are not Ashkenazi Jews despite being European, and neither are Spharadi Jews who are also European from Spain (until the Inquisition). Ashkenaz is the ancient name the Hebrews gave to the area we know Germany/Austria/Czechia today, where as Spharad is Spain.